Our Locations & Hours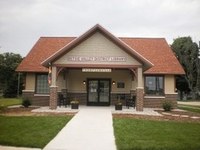 Betsie Valley District Library

Main Branch
14744 Thompson Ave., PO Box 185, Thompsonville, MI 49683
Phone 231.378.2716
Fax 231.378.2716
The Library building is now open for patron visits and computer use! We still have curbside service available! 
 Hours will be:
Monday 12PM to 4PM, Wednesday 12PM to 6PM, and Friday 12PM to 4PM.

Our usual hours are:
Monday 11AM - 5PM,
Tuesday 11AM - 5PM
Wednesday 11AM - 7PM
Thursday 11AM - 5PM
Friday 11AM - 6PM
Saturday 10AM - 2PM
Closed Sunday
The Betsie Valley District Library Board meetings are usually held the second Tuesday of the month at 6:00 PM. However, due to the pandemic, and executive orders, the Library may conduct Virtual meetings until allowed to conduct in-person meetings at the Library. However, the next BVDL Board meeting will be conducted at the Weldon Township Hall, 14731 Thompson Ave, Thompsonville, MI 49683 (across the street from the Library), July 14, 2020 at 6PM. As always, the public is welcome. We ask that attendees wear a facemask and please social distance 6 feet. Thank you! Board member(s) and the public may contact Library Director Michelle Guerra at call 231-378-2716 or email at bvdlibrary@acegroup.cc to provide input on any business that will come before the Board or committee.