Our Locations & Hours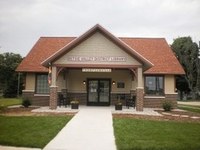 Betsie Valley District Library

Main Branch
14744 Thompson Ave., PO Box 185, Thompsonville, MI 49683
Phone 231.378.2716
Fax 231.378.2716
The Betsie Valley District Library welcomes you! 

We still have curbside service available! 
 
Our hours are:
Monday 11AM - 5PM,
Tuesday 11AM - 5PM
Wednesday 11AM - 7PM
Thursday 11AM - 5PM
Friday 11AM - 6PM
Saturday 10AM - 2PM
Closed Sunday
Dear Patrons, the Betsie Valley District Library Board meeting times will be temporarily changed to 10:00am instead of 6:00pm on the second Tuesday of the month. This change will be effective through March 2024. The Board meetings will resume meeting at 6:00pm in April 2024. We appreciate your understanding and all are welcome to attend. If you have any questions, please call the Library at 231-378-2716. 
The Library may conduct Virtual meetings. Consequently, the BVDL Library Board will conduct the Board meetings virtually via ZOOM. If anyone wishes to attend the meeting, please contact Library Director Michelle Guerra and she will gladly email you the information on how to attend the ZOOM meeting. The meeting will be recorded and will be available for viewing on the BVDL's youtube channel. Board member(s) and the public may contact Library Director Michelle Guerra at call 231-378-2716 or email at bvdlibrary@acegroup.cc to provide input on any business that will come before the Board or committee.