Kids and Teens
Books, Websites and More.

Homework Help
Start here for your online research and homework help!
An extensive collection of Web sites that can help you with a wide range of subjects you may be researching for school assignments.
Books for Fun
By way of Book Sense, a list of children's books that are flying off the shelves.
Web sites that talk about books for kids and teens.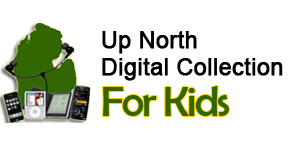 Check out the Up North Digital Collection for kids and teens!


__________________________________________________________________________
Betsie Valley District Library 2019 Summer Reading Program
Who: Ages 2 to Senior in High School

Sign up starts June 8, 2019 and will run through August 17, 2019.
***Come for sign up June 8, 2019, 11AM to 2PM, to have your GALACTIC READER picture taken!
Where: Come into the Betsie Valley District Library and sign up to receive your reading log.
The Library is located at 14744 Thompson Ave., Thompsonville.

***YOU ARE A GALACTIC READER!!
Read 2 hours each week, mark or color the pictures on your log for that week, and come into the Library to claim your prize! Color or circle each picture for every half-hour that you read!  Read each week to earn a different prize!
Keep reading to earn a prize each week!  Beginning readers can have a parent or big brother or
sister read to them! If you read ahead, you still must wait for the
appropriate week to come in and get your prize for that week-we want you to enjoy reading all summer!
At the end of summer we will have a celebration party for everyone who has signed up for the reading program on August 24, 2019 at 2PM! We will have pizza and cupcakes and you can have your GALACTIC READER PICTURE TAKEN! EXTRA PRIZES DRAWING AT THE PARTY!
  ***A UNIVERSE OF STORIES! Story and Activity Hour will be run June 19, 2019 to
July 31, 2019, Wednesdays, 11AM to 12PM.
6/19/2019: To Infinity and Beyond! We'll learn and read about the Apollo 11 mission and astronauts and make a paper rocket!
6/26/2019: Magical Moon!  We'll learn about the moon, listen to moon stories, and make our own moon rocks!
7/3/2019:  Spooky Space! We'll listen to "spooky" space sounds, read "far out" stories and end with our own
   musical parade down Thompson Avenue!
7/10/2019: Legends and Stories of the moon and the stars! We 'll listen to legends and stories and learn how to read a star clock!
7/17/2019: Aliens Invade the Library! We'll share silly alien stories and make our own alien headbands!
7/24/2019: You Are A Super Hero! We'll read stories of heroes that made our world a better place and make our own

                super hero mask!
7/31/2019: A Universe of Stories: We'll read funny and exciting stories and learn how to read a star finder—and
                you will get to take your star finder home!
***6/14/2019: Moon Party presented by the GTAS, 8:30 Moon Talk about the Space Race and the Apollo Missions, Viewing of the Moon and planets (weather permitting) after the talk.
***Read with Chaz the St. Bernard, every 3rd Wednesday of the month, 5-6PM!
*****************************************************
Thank you to our Galactic Sponsors for their cosmic prizes for the Celebration
Party Grand Prize Drawing: * Bear Claw  *Crystal Mountain

* Geno's Sports Bar and Grill  * Rosie's Country Café' 
Questions, please call the Library at 231-378-2716 or email us at bvdlibrary@acegroup.cc!