PoWer Book Bags at the Betsie Valley District Library!
Thanks to a collaborative effort by the Advocates for Benzie County's Education Task Force along with the four public libraries of the county, PoWeR Book Bags went out this summer to Benzie County children from pre-school on up. PoWeR stands for Play, Write, and Read. Each bag contained books, writing materials, and a finger puppet to encourage play. We are extremely happy to have participated in this wonderful program! Many children in our area were excited to receive books of their choice to add to their home libraries. We are hoping to participate again this coming summer.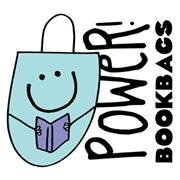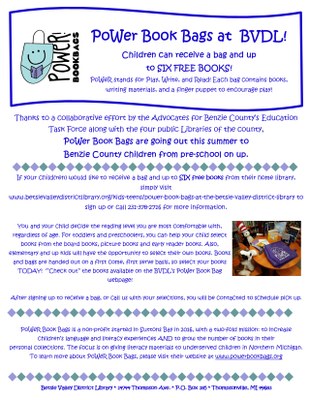 Child(ren) could receive a bag and up to SIX free books for their home library, by clicking on a link shown on this page to sign up, or calling 231-378-2716 for more information. You and your child could decide the reading level you were most comfortable with, regardless of age.

With the help of adults, toddlers and preschoolers, could select books from the board books, picture books and early reader books. Also, elementary and older kids had the opportunity to select their own books. Books and bags were handed out on a first come, first serve basis.

PoWeR Book Bags is a non-profit started in Suttons Bay in 2016, with a two-fold mission: to increase children's language and literacy experiences AND to grow the number of books in their personal collections. The focus is on giving literacy materials to underserved children in Northern Michigan. To learn more about PoWeR Book Bags, please visit their website at www.powerbookbags.org


Power Book Bag Booklist    
 We are so happy to say that we have given all of our books out to readers! We hope to participate in this wonderful program next summer!